Challenges in H2 and beyond on higher labor, raw material costs
Cafe de Coral Holdings Ltd, the biggest fast food restaurant operator in Hong Kong, said Monday its foresees formidable challenges ahead on the back of rising operating costs after it reported flat first-half earnings.
The company made a net profit of HK$223.9 million for the six months ended September 30, 2010, up 1.1 percent from HK$221.3 million in the same period last year.
Overall sales increased by 10 percent to HK$2.63 billion during the past six months from HK$2.39 billion. The company declared an interim dividend of 17 Hong Kong cents per share, unchanged from last year.
"Profit growth slowed in the first half because the margin was eroded by surging raw material and rent costs," Michael Chan, chairman of Cafe de Coral, said in a press briefing Monday.
According to Chan, the group's overall food purchasing prices have increased 15 percent during the period, among which beef, vegetables and pork prices surged 25 percent, 20 percent and 15 percent respectively.
Rental, which accounted for about 28 percent of the group's total costs, climbed to 30 percent due to surging property prices in Hong Kong.
Chan believes the group's profitability will be further hurt after the minimum wage ordinance starts taking effect next year, amid an inflationary environment.
Effective from May 1, 2011, Hong Kong's first minimum wage rate, set at HK$28 per hour, will require Cafe de Coral to increase the pay of 7,600 employees out of a total 11,500 who are currently paid around HK$22-23 an hour.
This means that the company will have to pay an extra HK$80 million every year to those who are eligible under the ordinance, and another HK$70 million to other employees as pay will rise due to a "linkage effect", according to Chan.
"Unlike high-end retailers, local caterers with narrow profit margins experience harder times in a good economy amid inflation because of floating costs," said Kenny Tang, executive director with Redford Securities.
Cafe de Coral's gross profit margin in the first half of this year stood at 14.4 percent, down 1.2 percent from 15.6 percent a year ago. Tang projected that the wage increases next year will mark off another 1 to 2 percent at least in its gross profit margin next year.
Nevertheless, Cafe de Coral's Chan said the group will not take the lead in raising fast food prices, after already hiking them by 2 percent in the first half of the year.
"We are very prudent and will stand pat on this issue," said Chan, adding that the healthy growth prospects of its mainland restaurants will help counter the difficulty that the local business is facing.
Cafe de Coral currently owns 79 restaurants on the mainland, which have posted a profit growth of HK$34 million in the first half – up 20 percent compared with the same period a year ago.
Chan said the company plans to open 20 restaurants in Hong Kong and another 20 on the mainland each year.
The company is now the largest publicly listed Chinese fast food restaurant group in the world with over 330 outlets in the Asia Pacific region, and more than 200 quick service restaurants in North America under various brand names including "Cafe de Coral", "Manchu Wok", "Oliver's Super Sandwiches" and "The Spaghetti House".
Since Cafe de Coral's mainland new restaurants are opening at a rapid pace, Chan said some investment banks have advised the group to remove the various parts and have them listed separately. But Chan denied there is a concrete time-table for the spin-off.
China Daily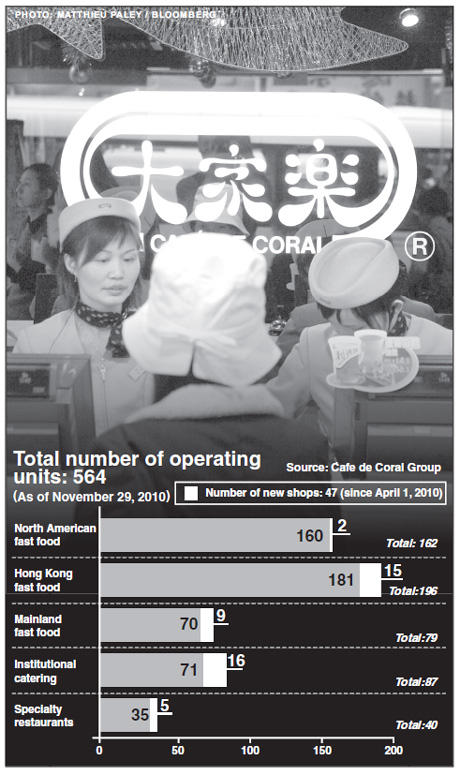 (HK Edition 11/30/2010 page3)
http://www.chinadaily.com.cn/hkedition/2010-11/30/content_11626904.htm