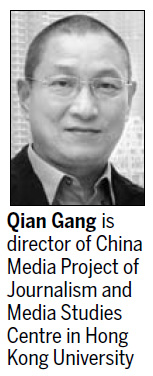 China's media landscape has changed drastically in recent years in which the country's rapid economic growth has had a major role to play. The reform and opening up and the subsequent relaxation of government regulations saw the birth of market-oriented media in China, after which even flagship Party newspapers began publishing profitable weeklies and dailies.
But still the future is pretty cloudy, says Qian Gang, former correspondent of the People's Liberation Army Daily. Qian was a correspondent of the PLA Daily when the mass media were essentially a means to political ends.
Now a writer, and director of China Media Project of Journalism and Media Studies Centre in the University of Hong Kong, Qian says: "There is yet to appear an independent newspaper or broadcaster that I believe could become the mainstream media in China." Looking at the potential of the mass media in China, Qian shows a clear preference for what he calls "public media".
"Some say the Internet will change traditional news reporting but I am cautiously optimistic. As a matter of fact, I do not advocate separating traditional media from 'new media' because they are mutually interdependent."
Qian concedes that the Internet, which connects millions of interactive Web users, has immense power in some aspects of reporting, especially when events are shared by great masses of people. "If the Internet had been as popular in 2003 as it is today, the SARS outbreak story would have become public much earlier, even though some officials still might have tried to resolve the crisis by working behind closed doors. But when exploring issues in greater depth, such as the vaccine scandal or mine accidents which require professional expertise or which take place 'underground', the traditional media are still the major source of news."
The new media, especially the Internet, will expedite media reform in China, he says. Yet he remains doubtful about the future of the new media in mainstream journalism. In many ways, the first credible, independent news provider in China seems to be just round the corner. But in reality, there's still a long way to go, because there is the question of ethics.
"In many cases, the media dangle 'damaging' reports in front of corporate executives or officials to force them into signing advertising contracts. The Chinese media, even those that have a strong sense of social responsibility, are still part of the peculiar marriage of commerce and politics."
Qian distinguishes "public media" from political and commercial media. Public media, he says, is like the Public Broadcasting System in the US. The difference is that public media are similar to so-called "social enterprises". Their purpose and mandates are distinct from those of the political and/or commercial media. The political media's aim is to achieve political success for one party or another, whereas the commercial media seek profit to satisfy shareholders. A public media organization can be owned by the State but its purpose should be to serve the people.
Qian was the managing editor of Guangzhou-based Southern Weekend for several years. Reflecting on his experience with the influential newspaper, which built its reputation on investigative reports that routinely exposed social and political issues, he says political support was still key to the success of the paper.
In many countries, governments have newspapers and broadcasters serving their political ends. The Voice of America, which speaks for the US government, is one such example. This may not be such a good thing, he says. But then a totally market-oriented media environment could make newspapers and broadcasters go to the other extreme.
He cites Taiwan's example, where the media are engaged in such a fierce competition to get advertisements that some of them have stooped down to publishing and airing trivial and sleazy stories to attract readers and viewers. The logic is simple: the more readers or viewers a media outlet has, the more ads it will get.
He says that even if public media get all or a substantial part of their funds from the government or official sources – tax revenue or from license fees – their non- profit motive will allow them to report objectively and fairly. This in itself will be a departure from the culture of publishing giants and broadcasting oligarchs.
In Germany, broadcasting councils comprising representatives from major organized social groups monitor the country's public broadcasting network, ADR. These groups include labor and industrial bodies, and other organizations representing the general interests of the public.
Citing another example, he says Hong Kong's sole public service media, Radio Television Hong Kong, is free to criticize the government even if it gets its funds from the government.
"Media reform in China still has a long way to go Public service media may have been a success in many countries. But where can we find a credible group that represents the interests of the public if we want to replicate its experience in China?"
Such is the power of advertising revenue that the media tend to turn a blind eye to the deeds of some powerful companies because they pay huge amounts in ad bills to newspapers and TV channels. It's either money or politics that seems to be dictating terms to the media worldwide. No wonder, the future of public media appears to be pretty cloudy to Qian.
(China Daily 07/15/2010 page9)
http://www.chinadaily.com.cn/opinion/2010-07/15/content_10108435.htm